Delivery & Payment Information
Delivery Methods

1. Courier ($4.50). It is encouraged to select this mode if goodie bag packing services are required to protect the goodie bags with items inside. Deliveries are typically 3-4 working days with no selection of specific timing to non-CBD areas and subject to delivery schedule/slots. If need to deliver to CBD area, top-up may be needed. If packing is needed, it would require another 2-3 working days before it is can be picked up by courier. Hence if courier is needed, please factor in approximately 1 week before you can receive the item. If size of parcel exceed standard size of the courier parcel, we will contact you for top-up. Minimum order to opt for courier is $20 (non-snack/tags items)

4. Self-Collection (Free).

- Cactus Drive:
Mon-Fri 815pm-930pm. Pls whatsapp 8014 3119 to arrange.
(Pls whatsapp 8014 3119 to arrange and book timing). If undecided of when to collect after placing order, pls inform us 1 day in advanced before coming so we can ensure a staff can be arranged to pass to you.

- Woodlands Ring Rd:
Weekdays (except Tuesdays): 3pm-6pm/8pm-930pm
Weekends: 930am-12pm/2pm-6pm/8pm-930pm
(Pls whatsapp 8014 3119 to arrange and book timing). If undecided of when to collect after placing order, pls inform us 1 day in advanced before coming so we can ensure a staff can be arranged to pass to you.
5. Free standard 3-4 working days delivery for orders above $90. If packing of goodie bags is required, to factor in another 2-3 working days.

If Normal/Registered Singpost Mail is selected, please take note that if you purchase goodie bags, they will be delivered flat by Singpost. For non-registered mail, there is no tracking number assigned by Singpost - there will be no way to track or trace lost/undelivered items. Kiddiegoodie.sg will not be liable for loss/damage of goods during transit.

Delivery Locations

KiddieGoodie.sg does not deliver to all offshore islands, Sentosa, restricted zones, supply bases, P.O. Boxes and international locations.

Receiving of Delivery

1. For Self-Collection Delivery, please be punctual at the agreed Self-Collection site and time window. If you are unable to receive the delivery within 15 minutes of the agreed time window, charges may be applied for the next Self-Collection delivery arrangement.

2. For Courier Delivery, please be present to receive the purchased items at the day and time window provided by the third party local courier. A re-delivery fee of $8 may be incurred if you or your representation is not able to receive the delivery. Please sign the Delivery Order in the presence of the courier representative to indicate your delivery has been received. The authorized or intended recipient has to examine the order upon delivery to ensure that there are no visible signs of damaged, missing or incorrect merchandise. In the event that there are missing, damaged or incorrect packages, please indicate the problem on the Delivery Order and contact us at order@kiddiegoodie.sg within 48 hours of your delivery. A signed delivery receipt, without indications of missing, damaged or incorrect item(s) represents your acceptance of the complete order in perfect condition. If no one is available to receive your order at your delivery address during the scheduled delivery time-slot, you will receive a notice slip indicating a failed delivery as well as instructions on how to arrange for a re-delivery of which a charge will be levied accordingly.
Payment Methods

1. Bank Transfer. Payment can be made via bank transfer to OCBC account 6015 1152 0001. Pls screenshot payment details to Kiddie @ 8014 3119. Upon confirmation of receipt of payment, the order will be processed.
2. PayNow (UEN: 202116874W) / Scan to Pay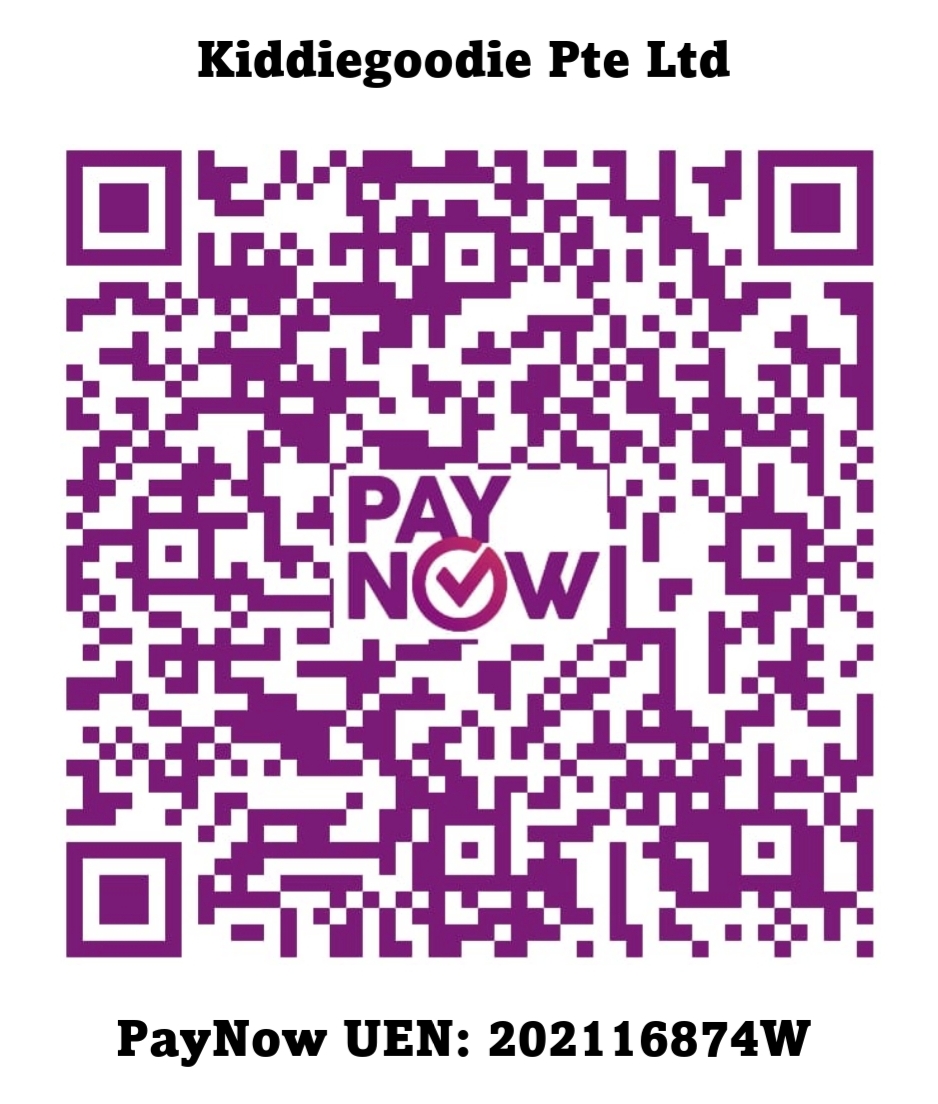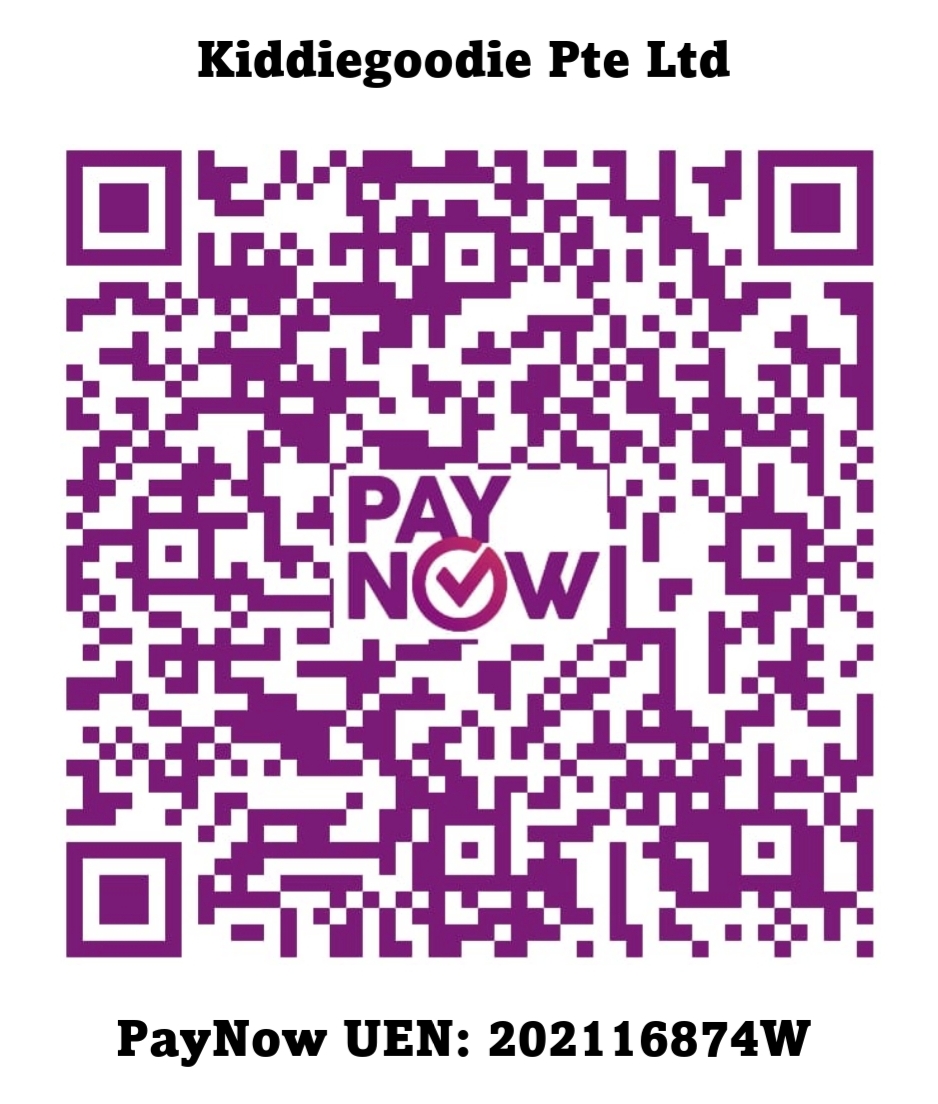 3. Paypal. A minimum purchase of $20 is required for Paypal payment.
4. For Companies requiring invoices, we can issue e-invoices. Pls Whatsapp us at 8014 3119 for enquiries.
Delivery/Collection/Order Fulfilment Timeframe

1. For orders not requiring packing of goodie bags, subjected to stock availability, items can be picked up on the same day at the Self-Collect locations or 3-4 working days for standard delivery.
2. For orders requiring packing of goodie bags, please allow 2-3 days before collection. For orders requiring delivery, to add 3-4 working days standard delivery. If urgent order, pls Whatsapp us at 8014 3119 to check and buyer is encouraged to do Self-Collect/Meet-up or arrange own courier to pick up where possible. For enquiries regarding order fulfilment and timeframe, pls whatsapp at 8014 3119 or email at order@kiddiegoodie.sg and our staff will respond to you soonest.
3. For bulk orders where packing is required (goodie bags above 100 packs), please allow for longer leadtime.
Returns/Refunds
1. We do not accept refunds or returns unless there are reasonable defects on the items. For self-collects, buyer to check through the items and quantity, upon acceptance, Kiddiegoodie will not accept returns or refunds.
2. Should there be a return/refund on non-defective items due to Buyer's own personal circumstances, it will be entirely based on goodwill on the part of Kiddiegoodie.sg and the amount to be refunded will be assessed on a case-by-case basis, typically not exceeding 50% of the order due to picking, packing, delivery, communication, material and labour costs incurred arising from the order. Location and timing to return will be subjected to Kiddiegoodie.sg's availability and timeframe.